With a perennial problem on their heels, Nike engineers a solution that not only sees the answer in the creation of the innovative Joyride Dual Run, but essentially charges back a jolt of fun in running.
Related: Find Out What Saved Us When We Joined A Nike Run For The First Time And Got Way Too Competitive
"Do you run?" I was asked by a neon clad Nike+ Run Club Pacer just as soon as I finished lacing a fresh pair of running sneakers in a double knot. The Nike Joyride Dual Run fit just right on my feet, hugging the curves and arches to an immediate comfort, which added the eventual buoyant spring in the speak once I started to walk around in them. "Not really," I answered back, a little while before warming up at the Track The 30thin Bonifacio Global City.
It's not as if I detest running. In fact, it is one of those fragments of working out that I really, truly enjoy. However, as it goes against my fitness goals, cancelling out any physical progress made, I had to scale it back, returning only to it from time to time. And then there lies the struggle, when after a dormant period, I have to once again pick up the pace, pun intended. From a source of endorphin-induced joy, it becomes a bit of a chore to get into the rhythm, figuring out the ways once waylaid.
While the Nike Joyride Dual Run was crafted to solve a much more pressing problem, aiming to circumvent and eventually solve the part where running becomes hard, difficult, and painful. As that stands to be a matter of fact, even to the most skilled of athletes and enthusiasts, the latest innovation from Nike engineers the shoe to make running not just bearable, but fun and enjoyable. "Our innovation? The Nike Joyride—Nike's latest proprietary cushioning system made of thousands of TPE beads, [which] is the most innovative cushioning system that gives you better impact absorption and a personalized fit," explains Nike EKIN Soy Soriano. "It's like laying into a bean bag, with 13% more reaction to impact absorption, as well a compression of 70%, which means you feel fresher after your run."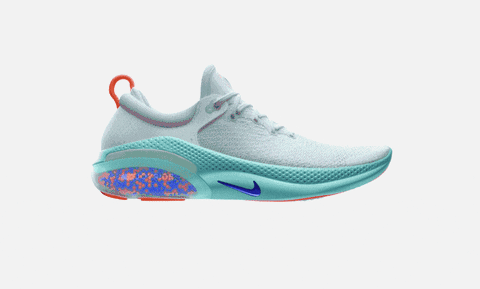 Whether you're a reluctant runner or one trained to the trails, the Nike Joyride cushion technology allows the foam to expand in all directions based on how your feet interface with the ground, giving it that conforming sensation that allows for an appropriate transfer of air for a more dynamic mobility. Surprisingly light with great energy-return, the running pair facilitates a smooth transition forward. With this innovation, it isn't about speed, but comfort in the familiar and smooth toe-off sensation, which encourages you to go further along in a run at your own pace.
This genuine concern has bridged a gap between the brand and the consumer, where with the Nike Joyride Dual Run, more and more are compelled to actually get out and start running.
Just as I was winding down and cooling off from the 3k run I chose to participate in around the city, a light and playful tap broke my daze, followed by an exasperation of: "You said you didn't run," the pacer said, hands resting on her hips. "I really don't," I laughed. "Well, technically." Besides, the maintained steady pace I managed to muster was a result of the stamina that I already had, plus the initial effects of the Nike Joyride Dual Run. Sure, it needs more breaking in to really feel the full glory of its engineered updates and innovation, but even at first wear, it proved to be that spring in the step, that jolt of joy in what once a sporadic romance with running. Perhaps there is some unfinished business here, we'll never know. What is certain is that whenever the time comes to fully commit to it again, there is that one sole that will make things fun again.
The Nike Joyride Dual Run retails for P6745 and will be available at Nike Park and partner retail stores on December 2, 2019.