From a fan to design collaborator, find out how the Lay Zhang and Converse collaboration is paramount to the brand's history and vision.
Related: Are These Blast From The Past Pair Of Converse Sneakers Really The Best Ever?
In a market saturated with stories and concepts, how does one stand out? Sure, it is fairly easy to just come up with a narrative or tell it as it is, but what makes it latch on to people is an earnest authenticity that will be relatable for most, if not all who gets the message.
And this is precisely where Converse shines the most. With its storied heritage and persisting irreverence in the sneaker universe, it has positioned itself not only as an indefatigable leader, but as a necessary part of everything from our youth to our adult life. It isn't just about their quality and game-changing products, but rather what these mean to the one wearing it. Whether one keeps to the classics or dares to break the rules, there is a pair of Converse that will make that impact, for sure.
Continuing its tradition of smashing the stereotype and coming up with the unexpected, Converse strikes a collaboration with Chinese-Korean musician, dancer, and all-around multi-hyphenate, Lay Zhang in a capsule offering that is set to light things up.
Already a big fan of the brand, having countless pairs and a strong affinity for the popular Chuck 70s silhouette, Lay Zhang uses this partnership with Converse to tell the story of his life: his determination for dreams and passion for music and dance. "My life is filled with stories, and a pair of Converse Chuck Taylors couldn't be a better medium to tell those stories," he says in an interview. Turning a vision into reality, the Converse x Lay Zhang collection is primarily inspired by the authentic training experiences in the dance studio, with both pairs featuring reflective laces and a cool glow-in-dark sole. "I want to see my steps in the dark; the light from the soles will encourage me to keep practicing and keep on dancing."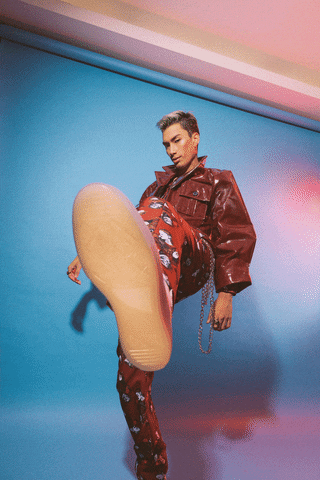 The Converse x Lay Zhang collaboration boasts of two realizations: a black leather Chuck 70 low-cut pair emblazoned with his own logo, as well as white Chuck 70 high-tops that come with interchangeable Velcro patches, translucent vintage license plate, and most interestingly, detachable canvas pouches that mimic the sandbags he would tie to his legs when training. If anything, the rigor and precision that comes with each pair is enough reason to cop it, especially since it can be used for just about anything and anywhere. "I wear them on stage, to practices, and even boxing. My coach is asking me for one every day, he said."
If we were you, we would keep our eyes peeled for the limited edition worldwide drop, as it is expected to be a big hit among fans of Converse and Lay Zhang alike. And by every indication, it is already a flawless iteration and continuing of the brand's growing story. "Every collaboration that Converse has with a designer will convey the soul and the story of the designer," says Lay Zhang. "I've been tracing back to the very beginning of the story between Converse and I. I kept thinking about what would be a good fit between Converse's spirit and my story. I came back to the street where I first bought my Converse. I was one of Converse fans, until now that I have my own collaboration with Converse. I'm very happy about that."
Both priced at P6990, the Lay Zhang x Converse collection will be available on November 11, 2019 on
Lazada, Converse Greenbelt, Sole Academy ATC, Sole Academy BGC, and Sole Academy Trinoma.
---
Photography Jemy Sta. Ana
Assisted by Steven Estrella
Creative direction and styling Angelo Ramirez De Cartagena
Grooming Jeanette Sia for MP School of Make Up Artistry
Model Julian Rodriguez